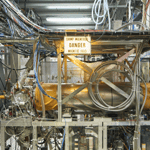 ALPHA
Explore the worlds of antimatter with the ALPHA Collaboration!
What does the acronym stand for?:

Antihydrogen Laser Physics Apparatus

About your project:

ALPHA an international collaboration based at CERN, and which is working with trapped antihydrogen atoms, the antimatter counterpart of the simplest atom, hydrogen. By precise comparisons of hydrogen and antihydrogen, the experiment hopes to study fundamental symmetries between matter and antimatter.
---
---