The CERN Zone is an exclusive peek behind the scenes of CERN facilities.

Give your students the extraordinary opportunity to connect with the scientists at the heart of nuclear physics experiments.
It's a student-led, online, independent activity for students aged 16 to 18. It's running until July 2024.
get access for your students ❯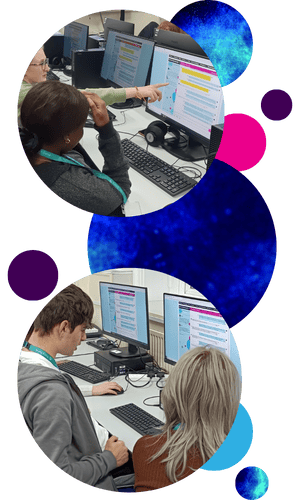 Students can:
Go behind the scenes of cutting-edge physics experiments with live online tours of facilities
Get real-time updates from the research projects taking place in CERN facilities
Dip into regular live Chats with scientists and ask follow-up questions
Evidence their activity and passion with a certificate of participation
Embed their learning by completing the termly Quiz
Deepen their understanding of modern physics
➕ Teachers can:
See which of your students are taking part, and what they're asking
Book an exclusive live Chat for groups of students at a time that suits you best
Download a poster for your classroom. Use this to share your unique registration code to your students
Once you've registered for the CERN Zone you will receive a unique registration URL to share with your students.
You'll be able to see which of your students are taking part, and the questions they ask.
The activity is all online and accessible from school or at home.
get access for your students ❯