Profile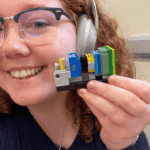 Mary Richardson-Slipper
About Me:

I am a PhD student at the University of Edinburgh. I live in Edinburgh now, but I used to live in Geneva, Switzerland to work at CERN 👩🏼‍💻!

I play rugby 🏉 ,

listen to lots of music 🎶,

and I love to crochet 🧶.

I'm a member of team LHCb

My Work:

I'm an experimental particle physicist on the LHCb expriment. I am using data from the LHC to find differences between matter and antimatter!

Read more

When the Universe started, matter and antimatter were created in equal amounts. When matter particles meet antimatter particles, they annihilate – this means they destroy each other. This means we should have nothing left over afterwards, but we see a Universe full of matter with no antimatter to be found. This is something we don't fully understand. There must be some difference between the matter and antimatter to cause one to survive over the other. My research will look for something known as CP violation – if we swap particles with their antiparticles and form a mirror image and then we see a difference in the way they behave, this could be the reason for the difference we observe in our Universe.

My work before CERN:

Before CERN, I did a masters project on neutrinos.

Neutrinos are special particles – they are very hard to detect and study so we don't know a lot about them! Neutrinos could hold a lot of secrets about the Universe.

What I would like to do next?:

I'd like to stay in Particle Physics research. I would love to stay on LHCb, but maybe I would like to look at neutrinos too! I'm not sure yet.

My CV

Education:

I went to St. Bede's Catholic Voluntary Academy in Scunthorpe from 2010 – 2015 where I did my GCSEs. I did my A-Levels at John Leggott Sixth Form College from 2015 – 2017. I studied my 4-year Masters in Physics with Theoretical Physics at the University of Manchester from 2017 – 2021. I am now at the University of Edinburgh and hope to graduate with my PhD in 2025.

Qualifications:

GCSE: English, Maths, Biology, Chemsitry, Physics, R.E., Geography, French, Product Design (Design and Technology), Computer Systems and Programming

AS Levels: Further Maths, Biology, Critical Thinking
A Levels: Physics, Chemistry, Maths

Degree: MPhys in Physics with Theoretical Physics

Work History:

Volunteer at Cancer Research charity shop (2015)
Summer School Mentor (Summer 2017)

Summer intern at British Steel in Scunthorpe (2018)

Tour guide at Jodrell Bank Discovery Centre (2021)

Job title:

Employer:

My Interview

How would you describe yourself in 3 words?

rugby-playing crocheting physics-loving

What did you want to be after you left school?

a brain surgeon

Were you ever in trouble at school?

Not very often, but when I was at primary school I never did my homework... I got better at secondary school!

If you weren't doing this job, what would you choose instead?

Probably a physics teacher, or I'd love to make games for Nintendo!

Who is your favourite singer or band?

Pink Floyd

What's your favourite food?

Mum's sunday roast

If you had 3 wishes for yourself what would they be? - be honest!

I wish I could sing, I wish I could fly, and I wish had a pet duck!

Tell us a joke.

Why did the dinosaur cross the road? Because the chicken wasn't invented yet!
---
---
---